These are some articles from bloggers in Paris who have suggested things to do, something different from the general tourist attractions.
THINGS TO DO IN PARIS - BY PARISIAN BLOGGERS
Pantin: Paris's urban adventure park
Pantin, in the suburbs of Paris, is a kind of urban adventure park where you can experience inner-city edginess without the associated potential dangers – perfect for a stroll along the canal.
Pantin, a small town on the Paris city limits twinned somewhat improbably with Moscow, is an ideal site for an urban promenade, thanks mostly to the canal that runs through it and a spectacular industrial ruin.
On Sunday afternoons, the Canal de l'Ourcq buzzes with movement. It is not the water itself – dense and sluggish and with little visible traffic – but the quays on either side that are alive with joggers and cyclists, as well as flâneurs such as myself who are on the lookout for cracks and dents in the smooth Paris cityscape.
The Metro takes you to its heart (Eglise de Pantin, line 5), but you can also follow the canal all the way from the centre of Paris, passing by the recently renovated

Grands Moulins de Pantin

which now provides a home to French bank BNP-Paribas. By the canal, joggers and cyclists are sent on winding tracks around decaying warehouses and alongside scruffy building sites, and even occasionally over the tops of barriers that have been laid mysteriously in their path.
Most people seem to gather at one particular point, alongside a concrete carcass which is covered from top to bottom in tags and graffiti. It is not though an easy building to approach. At the rear are locked gates and savage dogs, thankfully tightly chained to heavy rocks. From the Paris side, you need first to scramble over a stone blockade. The building itself is busy as an ants nest, with small groups of hooded figures looking carefully for a piece of virgin wall, or a more dated creation that they can safely paint over.
This building is just one of several dotted on waterways around Paris that were known as the magasins généraux, but it is easily the most impressive of these structures. It was built between 1929 and 1931, and offered a surface of 25,000m² over six levels. It was used primarily for the storage of grain and flour, and continued to be used up to the end of the 20th century.
Looked at more closely, it is clear that there was some architectural genius at work here, even if the name of the person or persons responsible has been lost in time. Resolutely modernist in form, it also offers a few art deco flourishes, mainly in the curved balconies that surround the building. With its prime waterfront position, it is easy to see the building's potential and it is not a surprise to learn that redevelopment is planned for 2014.
The promised development

is a standard mixed-use scheme, featuring at its heart a rather unlikely hotel (and a frankly

surreal gondola in the artist's impression

). It is a completely artificial attempt to transform what remains a working class district into a leisure zone, and one that conversely will make it less attractive to visitors.
In many ways the whole idea of renovation seems misplaced here. It is its grit that gives it its charm, and it already serves a purpose as a kind of urban adventure park where people can experience an inner-city edginess without any of the associated potential dangers. The building itself has become a permanent and ever-changing canvas for street artists, and its guts a playground for the explorers of city ruins.
Could it not instead become a focal point for a new kind of urbex tourism? It is perhaps an idea that is already being put into place. This Friday evening, the local tourist board are organising a walk from this point back along the canal into Paris in the company of graffiti artist dAcRuZ.
Paris's best antiques and street markets
Paris is a great place for flea markets and
brocantes
– places to find vintage goods and antiques around the city. Here's a list of trinket and furniture shops, and neighbourhood markets.
Three of the most common places to find collectable junk are marchés aux puces (flea markets), brocantes (second hand shops) andantiquaires (antique shops). The following list will give you a little taste of everything and help you discover the wonderland of Parisian knick-knacks and decor.
Village Saint Paul
The block in between rue de Rivoli and quai des Céléstins as well as rue Saint Paul and rue de Fourcy. This area is filled with shops and ateliers. The best time to go is the weekend, as there are many places tucked away that are closed during the week.
• village-saint-paul.com, metro: Saint Paul
La Tortue Electrique
A shop mostly specializing in vintage trinkets and toys.
• 5 rue Frédéric Sauton 75005, metro: Maubert Mutalité
Carré Rive Gauche
One of the classics, and definitely a higher end shop … wonderful for a peek!
• 16 rue des Saints-Pères 75006, carrerivegauche.com, metro: Rue du Bac
Au Bon Usage
A wonderful shop with a variety of furniture and home décor. Amazing chairs.
• 21 rue Saint Paul 75004, aubonusage.com, metro: Saint Paul or Pont Marie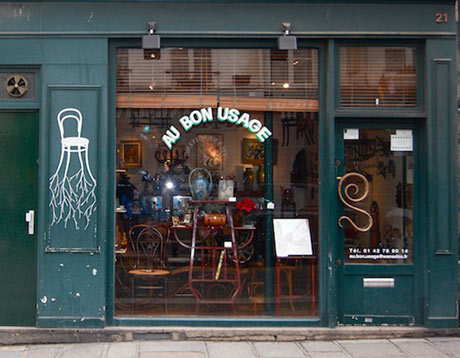 Et Puis C'est Tout
This place had loads of adorable vintage kitchenware at extremely reasonable prices. In the heart of the 9th district.
• 16 rue des Martyrs 75009, metro: Pigalle
Le Bazare Chic
A shop with wonderful kitchenware, furniture, books and artwork.
• 202 Avenue du Maine 75014, metro: Alésia
Au Fil du Coeur
This little shop has clothing and jewellery, as well as beautiful porcelain and silverware.
• 12 rue Sarrette 75014, metro: Alésia
La Salle des Ventes du Particulier
A shop with two locations; both specialize in bigger pieces - mostly furniture. They also have a dépot-vente which allows you to sell antique furniture.
• 117 rue d'Alésia 75014, antiquites-industrielles.com, metro: Alésia
Au Petit Bonheur de Chance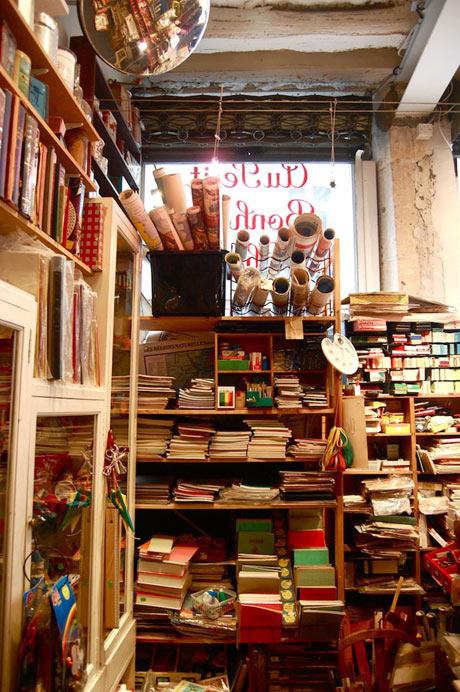 This is one of the hidden treasures of Paris. In this tiny shop you can find old notebooks, kitchenware, toys, and almost any other random trinket you could ever imagine.
• 3 rue Saint Paul 75004, aupetitbonheurlachance.fr, metro: Saint Paul or Pont Marie
Au Présent du Passé
A small shop with a variety of treasures such as paintings, dolls, china and even garden furniture!
•36 rue Davioud 75016, metro: Ranelagh
Zut - Frédéric Daniel Antiquités
This shop specializes in mostly industrial antiques: mostly furniture and décor made of metal and wood. Very design oriented.
• 7-9 rue Ravignan 75018, metro: Abbesses
Marché Paul Bert
This market and the Puces de Saint Ouen are two peas in a pod, and in the same area. Marché Paul Bert is open Saturdays, Sundays and Mondays.
• 96-110 rue des Rosiers 93400, Saint Ouen, paulbert-serpette.com, metro: Porte de Clignancourt
Marché de Porte de Vanves
Marché de Porte de Vanves is a weekend flea market. There are a large variety of vendors. The best time to pop by is before noon on Saturday or Sunday, and you're bound to find some goodies.
• 75015, metro: Porte de Vanves
Puces de Saint Ouen
A tiny stroll past the limits of Paris is the city's most famous flea market: the Marché Aux Puces de Saint Ouen. Here, you can find shop after shop after shop of antiques, vintage furniture, trinkets, clothing … you name it, it will be there. It is open Fridays, Saturdays and Sundays year-round.
• 140 rue des Rosiers, 93400 Saint Ouen, metro: Porte de Clignancourt
Local Paris "yard sale" type markets
Vide-greniers.org is a guide to where all the local markets are in Paris (and elsewhere for that matter) on any given day. From the markets that take place every weekend to those that only happen bi-annually, this site has got them covered. You can search by neighbourhood and market type – even garage sales are on here! The neighbourhood markets are usually on weekends, and have many stands and vendors of all shapes and sizes. With these constantly happening in the streets of Paris, you're in for a treat with the locals. The website is in French only.